Homemade Genius is a web app that aims to provide a better homeschooling experience. It helps homeschoolers easily find learning resources that best fit, plan and share their own courses with others in the community, and keep a detailed record of the learning processes.
TOOLS
Sketch, Figma, RawShorts,
Illustrator, Photoshop
DURATION
Oct 2017 - Ongoing
Identifying the Problem
The number of homeschoolers has increased
53%
in the past ten years. As of 2016, there were about 2.3 million homeschoolers in the United States (Ray, 2015). According to our preliminary research, we found that most studies casted doubts on the following issues:
Socializing skills for homeschool kids
Education quality and efficiency
Safety concerns
Carrying with these ideas, our group reached out to a total of eight individuals from four different states, hoping to corroborate the literatures and gain more insights into the homeschooling community.
Meeting Some Homeschool Parents
In our interviews with homeschool parents and former homeschool kids, we asked questions regarding their motivations for choosing homeschool education, approaches for finding homeschool learning resources, communications between homeschool parents and their kids, and any frustrations and concerns throughout their homeschooling experience. Questions are phrased open-ended and non-judgmental, but for the purpose of getting concret response.
Meet some homeschool parents we've talked to and see what they say: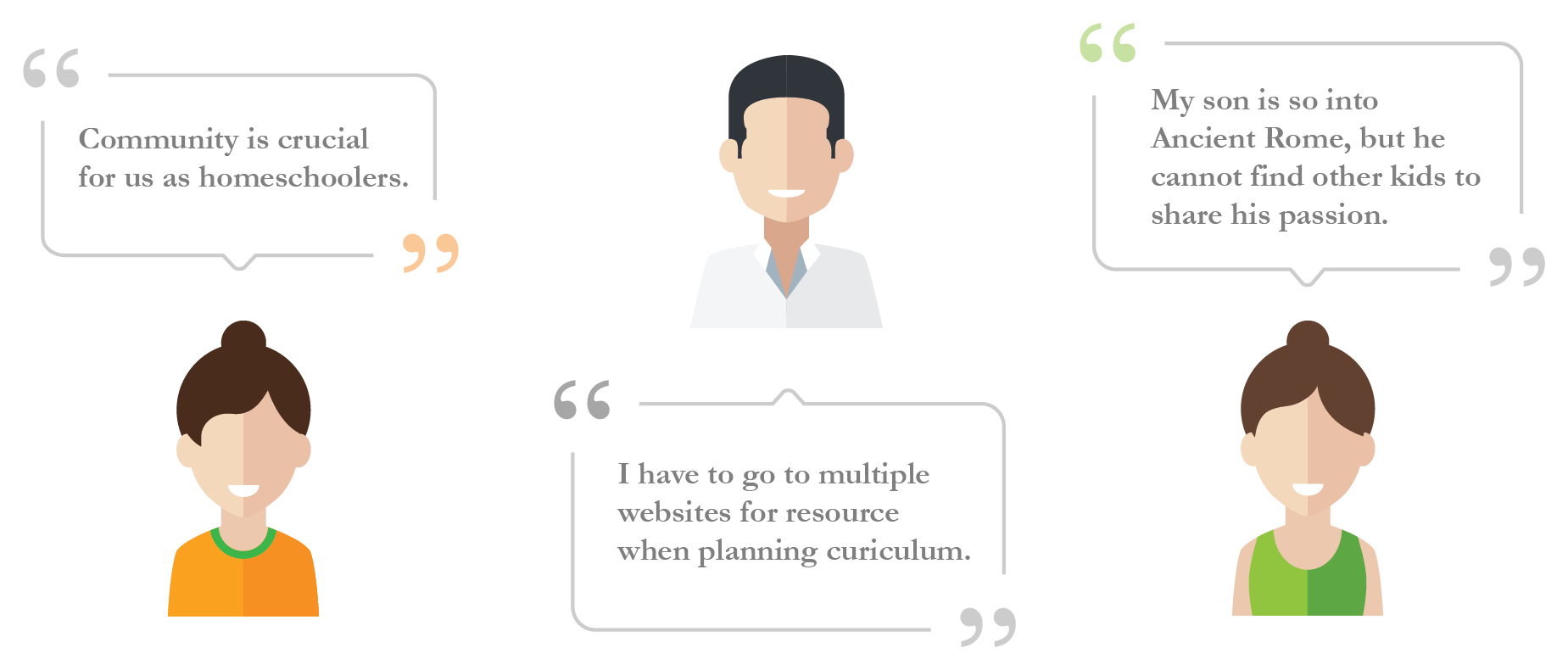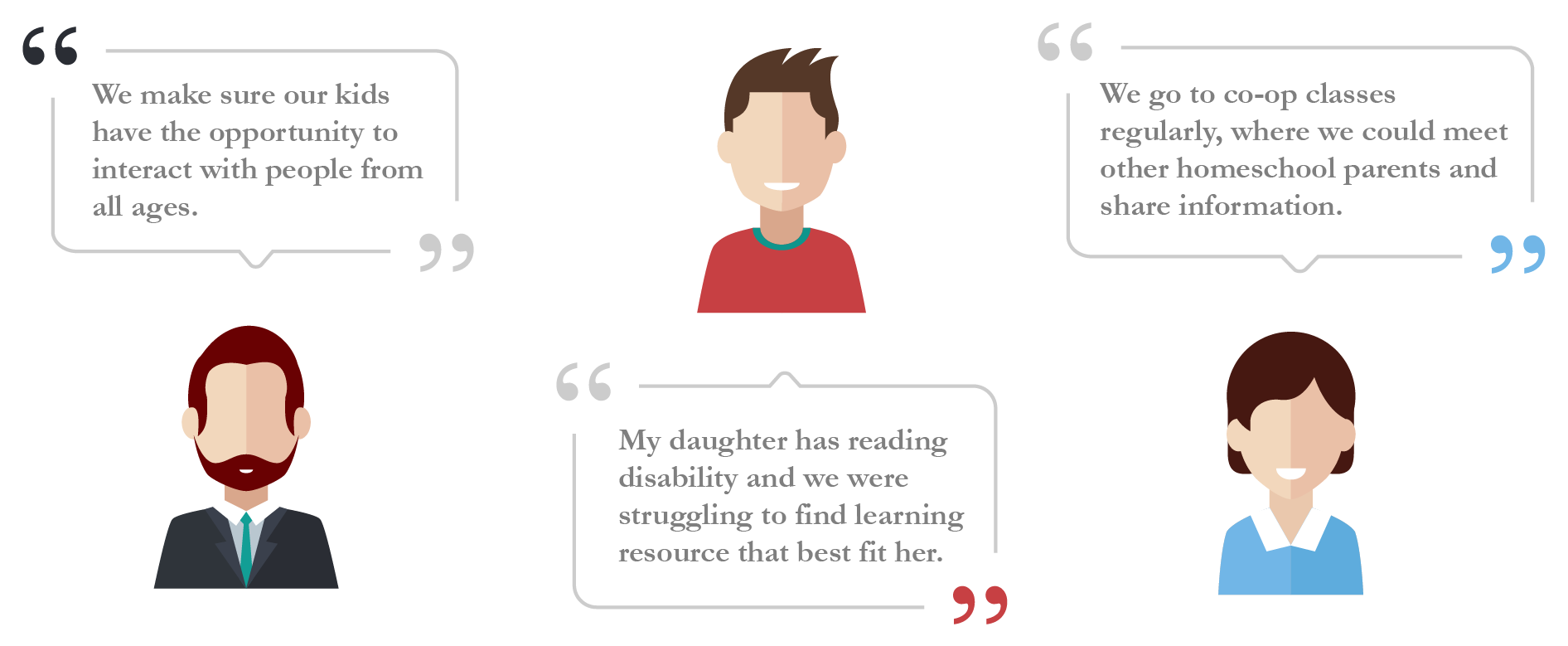 Understanding Pain Points
After completing each interview, our team went over key findings that were revealed during interviews as a group, using notes and recordings as points of discussion. Individual pieces of data, those that captured single facts about homeschooling education, were recorded as discrete affinity notes and then incorporated into an integrated affinity wall.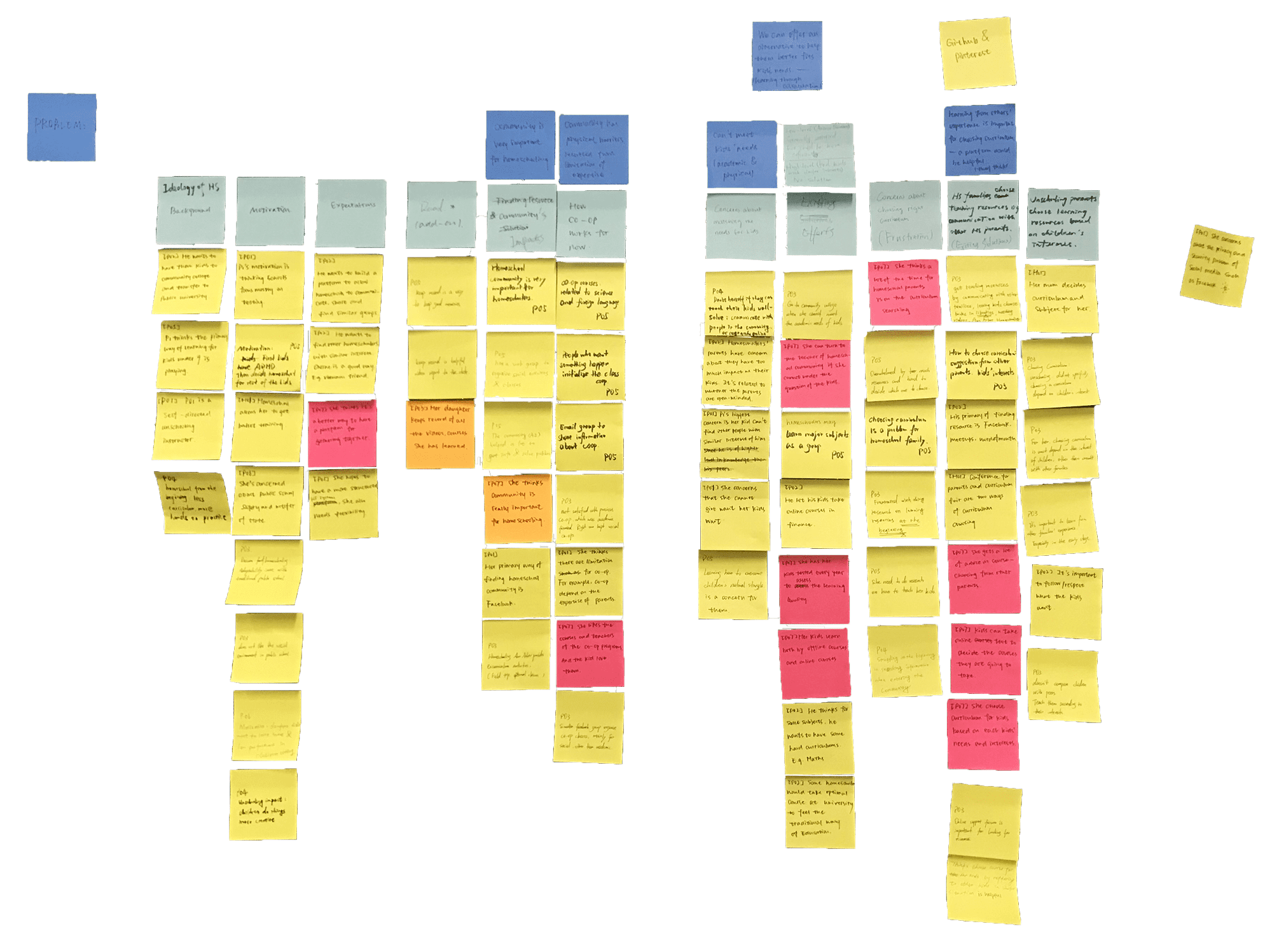 We were able to categorize the affinity notes into three main clusters according to theme or sentiment. Interestingly, the concerns we derived from secondary research were all proven inaccurate but, instead, many of the pain points included:
Community

plays an important role for homeschool families, in which homeschool parents can share resources and suggestions with each other. But the community is often too small that puts many constraints.

Finding learning resources

is problematic for some homeschoolers for that it is often time-consuming to locate the right fits.
The current way for homeschoolers to

find kids that share similar interests

is through Facebook posting or in-person communications in the local homeschool community, which could be constrained by the geographical boundary and is not particularly efficient.
Designing a Solution
After our interviews with homeschoolers and subsequent analysis, we brainstormed potential solutions together and proposed Homemade Genius, an integrated online homeschooling community for finding learning resources that best fit, planning and sharing courses, keeping detailed learning record, and connecting with people with similar interests, etc.

Bringing our ideas to some homeschoolers and information professionals, we received many positive feedback on the general concepts as well as constructive suggestions for what the system enables. Specifically,
privacy

is a top concern for homeschool parents. Designing a system that carefully protect privacy of the kids could be essential,
besides hoping to find more learning resources, homeschool parents also expressed expectations to see

ratings

from past resource users as critical reference, and
the system should not only function as an information hub, but also allow users to

actively interact

with each other.
With these feedback and suggestions, here's a glimpse of what you can do with Homemade Genius: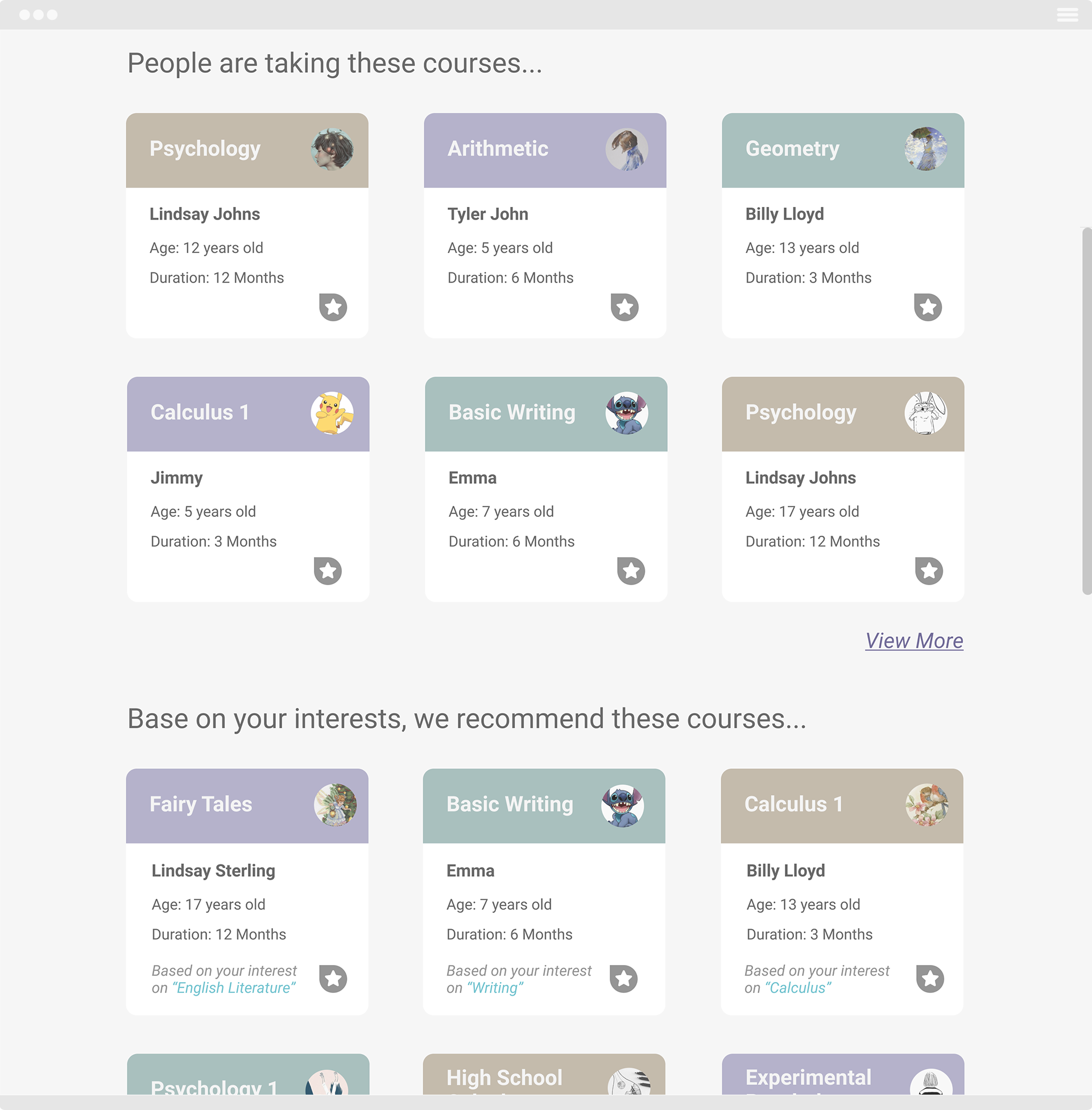 FEATURE 01
Recommend courses and users based on your profile and area of interests.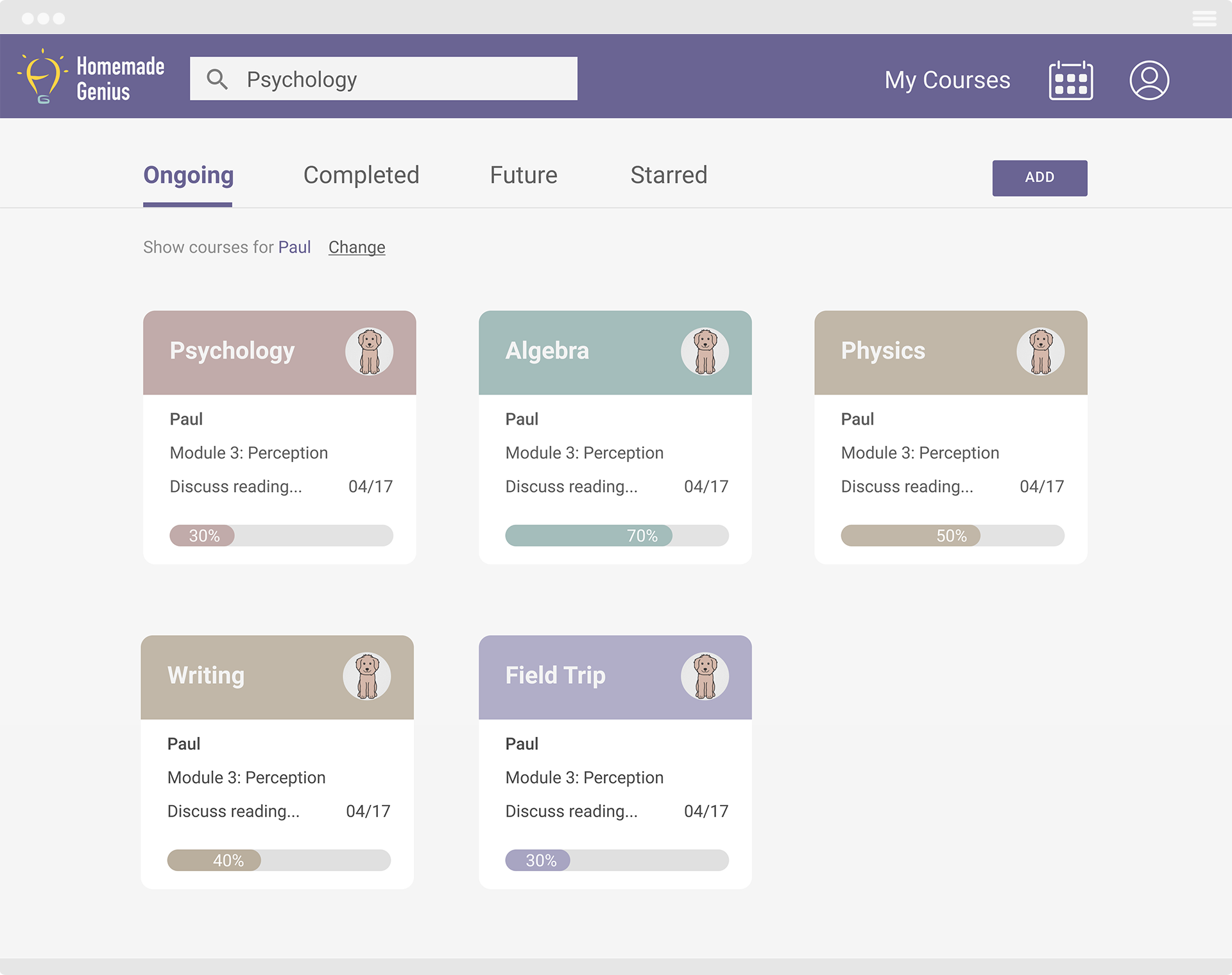 FEATURE 02
Find, share and manage learning resources.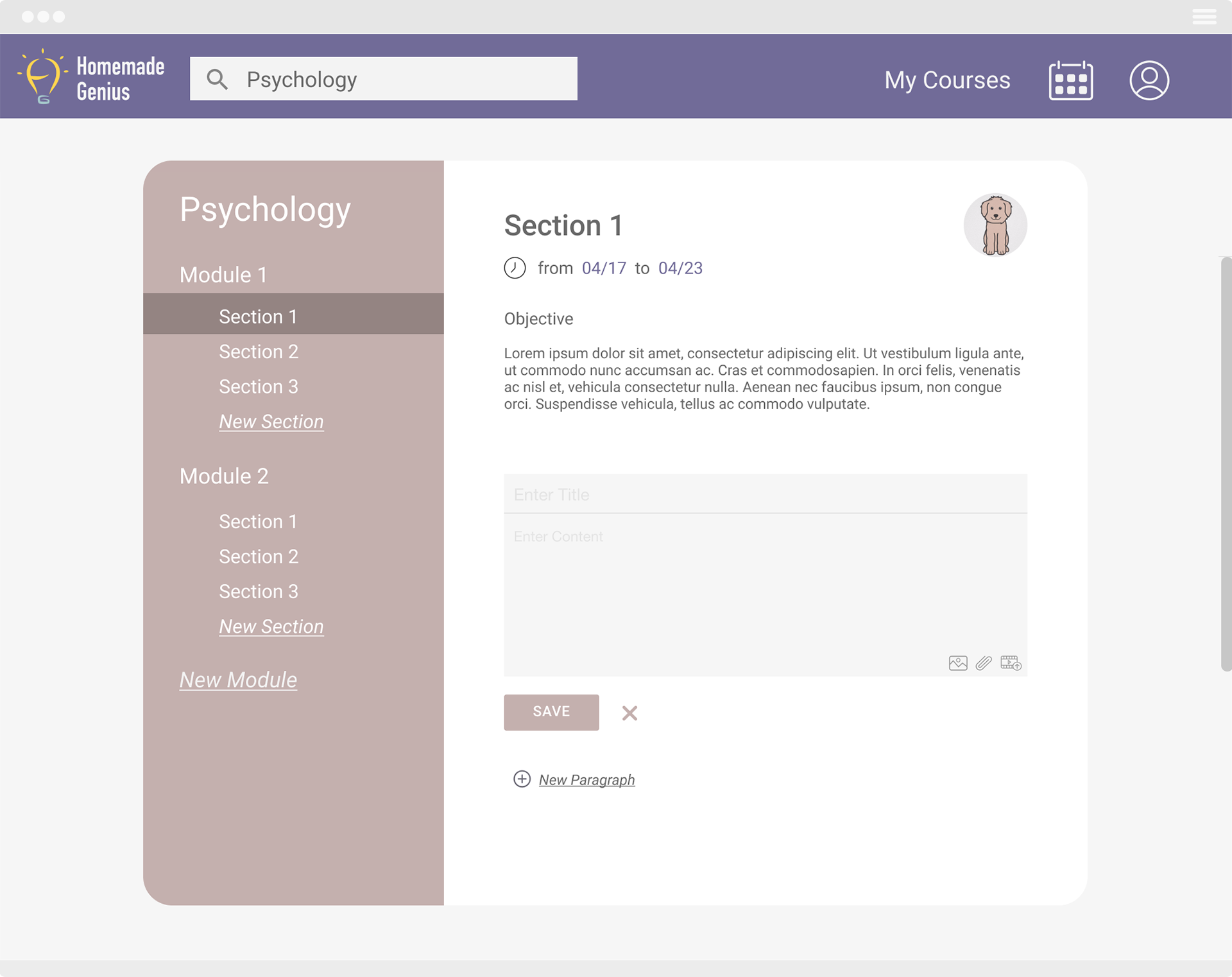 FEATURE 03
Create personalized curriculum.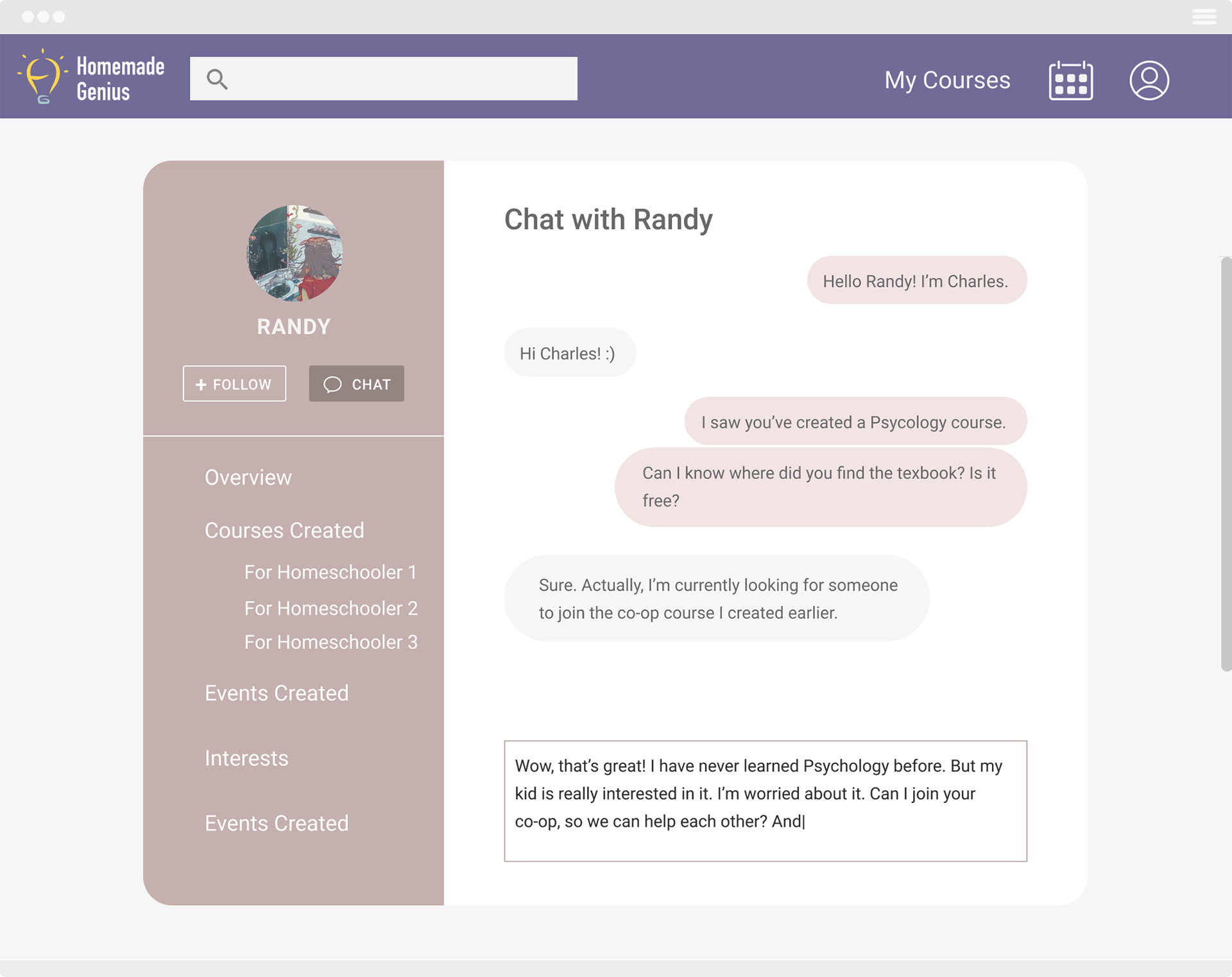 FEATURE 04
Find kids who share similar interests through keywords searching, online chatting, and course discussion.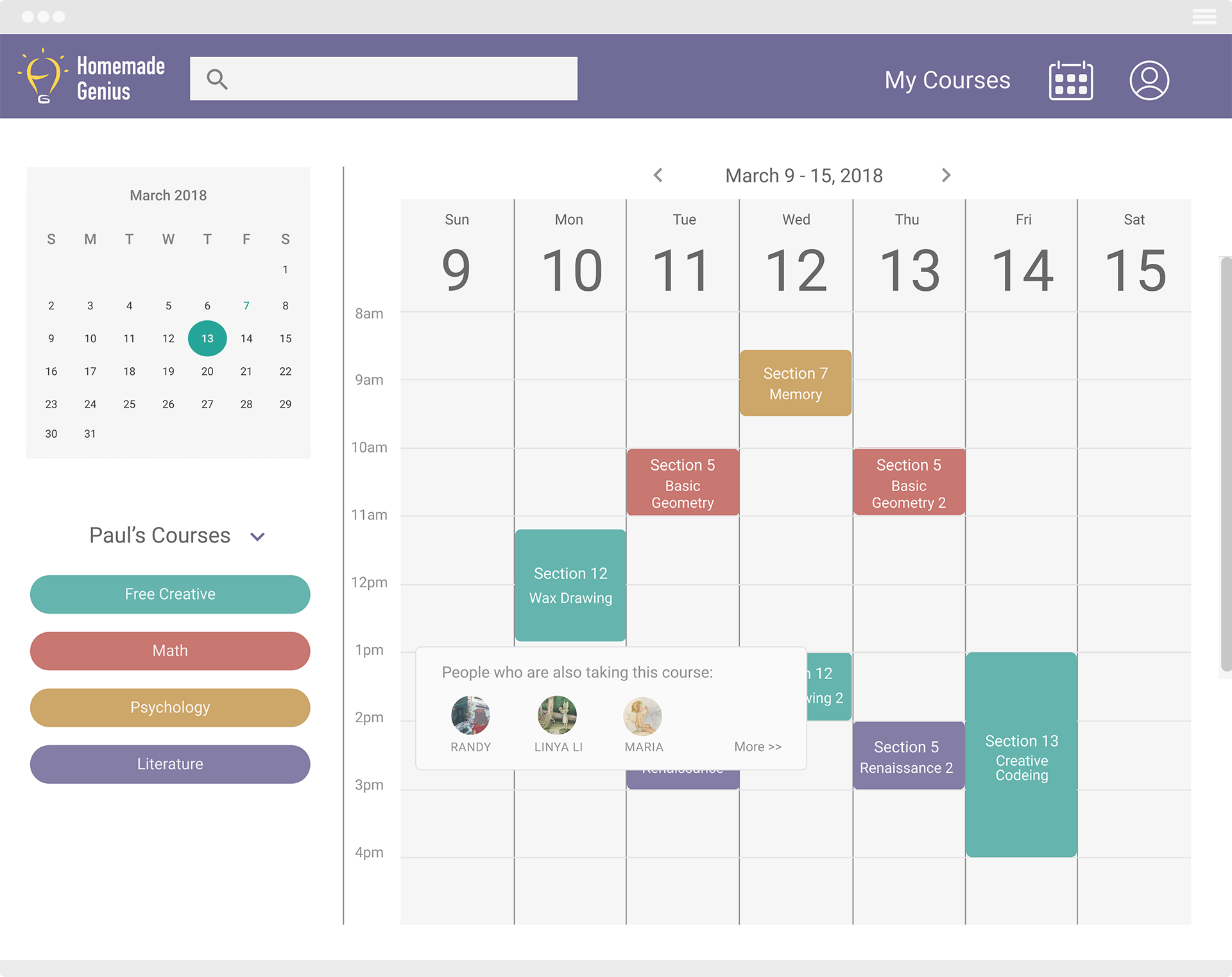 FEATURE 05
Find people who are taking the same course or have recently taken the course.
For a more interactive and complete prototype, please check out the video for a hi-fi demo.
This project was first initiated as a part of the 2018 ACM CHI Conference on Human Factors in Computing Systems, featuring the theme of engage. We really hope Homemade Genius can help homeschoolers best leverage the benefit of an active online community, eventually creating a home learning environment where information can be easily managed, tracked, and shared.
We are still actively testing our designs and getting feeback from target users and experts. Please reach out to us ([email protected]) if you are interested in learning more about the project or helping us with back-end implementation!